Winters are approaching the diverse landscape of India and soon many hill stations in India will be covered with snow making it a perfect time to witness snowfall. With lush green valleys, snow-capped mountains, evergreen forests, and whatnot! India has the perfect places for snow lovers and adventure seekers to try out various snow sports activities.
In this article, we have listed some incredible destinations you can explore on your next visit. Add them to your bucket list and experience the snowfall.
Top 5 hill stations in India to visit this winter
Gulmarg, Jammu & Kashmir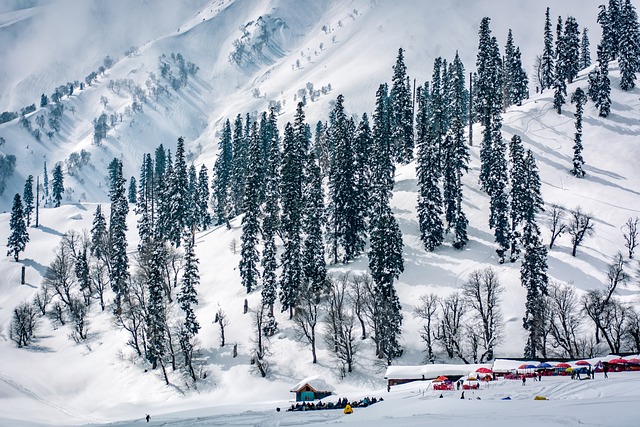 Gulmarg is a hill station located in the Pir Panjal range of the union territory of Jammu and Kashmir. The serenity of this place attracts tourists from all over the world. The snow-covered Himalayas, lush green valleys draped in pristine white, fun activities in the snow, etc., are a few things that attract tourists to Gulmarg from all over the world. December to mid-February is the best time to witness snowfall in Gulmarg.
Do you know: It has also served as a popular destination for many Bollywood movies like Haider, Highway, Bajarangi Bhaijaan, etc.
Things to do: Gulmarg Gondola is the world's second-longest and second-highest cable car project that offers cable car rides. The visit to Gulmarg is incomplete without this ride. The Gulmarg Gondola presents a magnificent view of Nanda Devi, LOC, and the Pir Panjal range. It gives a panoramic view of snow-capped mountains. The cable ride is divided into two parts and the second stage is occasionally shut down due to heavy snowfall.
People indulge in various snow sports here. It's okay if you are new to this, you can always join The Indian Institute of Skiing and Mountaineering, Gulmarg which offers various courses in trekking, mountaineering, skiing, and snowboarding.
Another place to witness the snowfall is the Drung waterfall, located in the Tangmarg tehsil of Gulmarg, Baramulla. The waterfall completely freezes in the winter because of the low temperatures.
Don't miss the walk on the frozen Alpathar lake, during winter, the lake freezes completely. You can walk on the hard surface of the lake with ease.
There are a few other places you should not miss on your visit to Gulmarg like Strawberry valley, Apharwat peak, St. Mary's church, etc.
Don't forget to add the beautiful town of Tangmarg to your list which is known as the gateway of Gulmarg and is home to many beautiful tourist attractions such as Baba Reshi Shrine, Ningle Nallah, Baderkoot, Gogaldara, etc.
If you have spare time on your hand then do visit the Gulmarg Biosphere Reserves which is home to many exotic species, and if you are lucky you might spot a snow leopard or a musk deer.
Kufri, Himachal Pradesh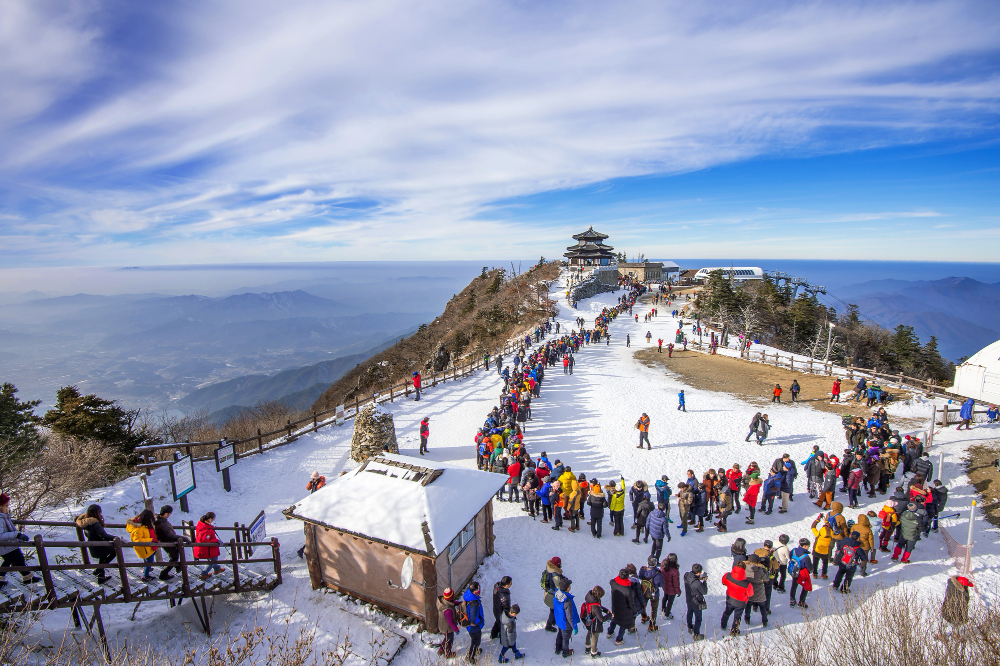 If you are a photo enthusiast and love to capture snow shots then Kufri is the ideal place for you. Click as many pictures as you can while making memories for life. This place offers mesmerizing views which leave its tourists always wanting more.
Kufri is the best romantic hill station to explore in Northern India which is located in Himachal Pradesh at a distance of 20km from Shimla. Winters in Kufri start in October and go till March, sometimes till April. The best time to visit Kufri is December to February as you can witness the highest snowfall during this time.
Kufri is known for its ski slopes, lush green valleys, etc., and it serves as a starting point for many treks. It is home to Mahasu Peak which is situated at the heart of the hill station and is the highest point in the town, you can also see Kedarnath and Badrinath ranges from here.
Things to do: During winter, this place is full of skiing enthusiasts as mountains are covered with thick layers of snow making it a fit base. There is also an annual winter sports festival that happens in the town of Kufri, it is usually held in February and people participate in various snow sports activities.
If you enjoy amusement park slides then you would definitely enjoy snow slides. Tobogganing is emerging to be one of the topmost activities in Kufri. Kufri has become a go-to place for this snow sport. You can slide down the snowy trails in a Toboggan alone or with the company.
You can also visit Fagu Valley which is home to apple orchards and cedar trees. It is believed that Fagu derived its name from the word Fog. Don't forget to enjoy yak rides, the slow, fluffy animals will give you a feel of older times when people used to travel on yaks.
Kufri fun world is one of the highest amusement parks in the world and it offers various fun activities to the tourists like go-karting, tunnel rides, zip lining, etc.
Auli, Uttarakhand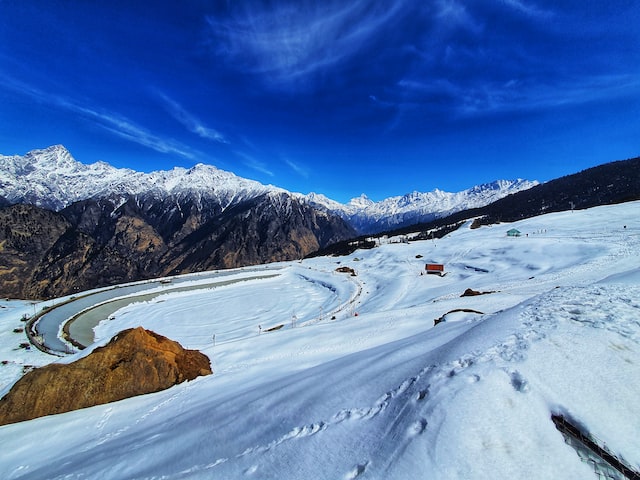 Auli is a Himalayan ski resort and hill station in the Chamoli district in Uttarakhand. December to February is the perfect time to witness snowfall in Auli.
Things to do: This is the perfect winter destination for adventure enthusiasts as there are many adventure activities that tourists can indulge in but, the most popular among all is skiing. It is also known as the ski capital of India which tells how well this activity is organized and can be performed here.
Apart from skiing, one can enjoy ropeway rides here. Auli has an artificial lake as well which is the world's highest man-made lake. January is the prime time to visit Auli to enjoy snow-sports activities like snowboarding, snow motorbiking, snowboarding, and skating.
This place offers mesmerizing views of the surrounding mountains like Nanda Devi, Kamet, Dunagiri, and Mana Parvat which are covered in thick snow. Nanda Devi is the second-highest peak in India and Nanda Devi National Park is situated amidst it.
The main attractions of this park are Badrinath Temple, the Valley of Flowers, and the Hem Kumb Sahib Temple.
You can enjoy a serene day while going on Auli – Gorson Bugyal trek, this trek offers beautiful views of the meadows and tall alpine, oaks, which are covered with thick snow.
---
Our other blogs for Travel enthusiasts:
Personality type: Are you a Mountain or Beach lover?
---
Patnitop, Jammu & Kashmir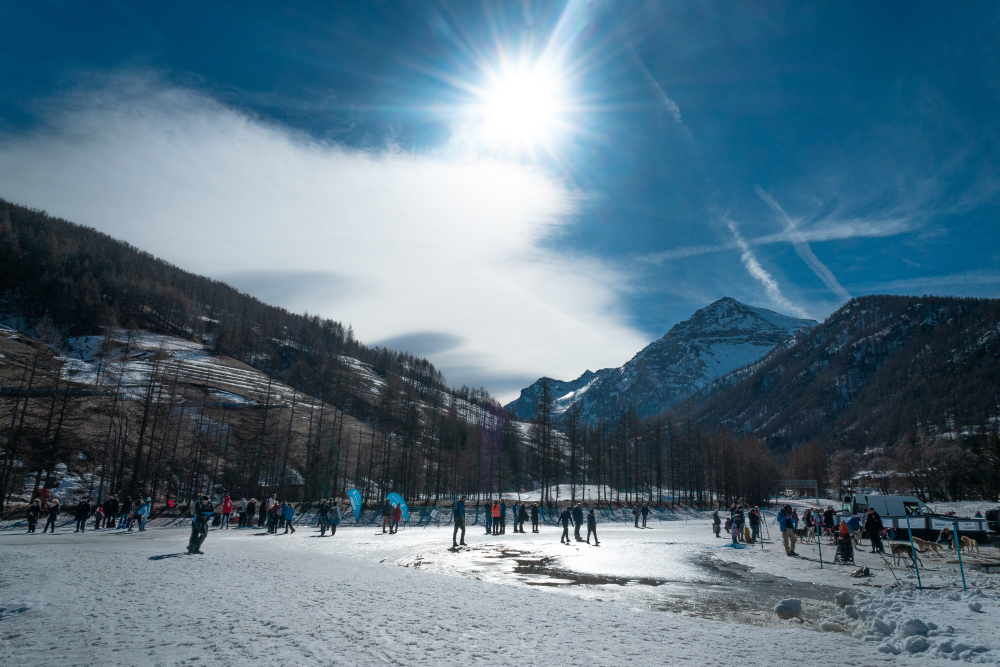 Patnitop is a hill station situated in the Udhampur district of the Jammu region in India. This place turns into a fairyland during winter which begins in the month of November and lasts through February. It is also considered the best season to visit Patnitop as the mountains during this time of the year are covered with heavy snow and you can witness snowfall.
Things to do: People from all over the world come to Patnitop in winter to enjoy the Winter Carnival; which is a three-day festival in Patnitop and is annually hosted by the Jammu And Kashmir Tourism Department. You can also enjoy diverse sports activities like snowboarding, motorbiking, winter camping, etc.
The ethereal beauty of the snow-capped mountains often leaves the tourists mesmerized. The thick layers of snow serve as the perfect base for skiing, which also catches the attention of many tourists. You can furthermore plan a visit to the Sudh Mahadev and Billoo ki Powri.
Sethan Valley, Himachal Pradesh
This Buddhist village is located at a distance of 12 km from Manali in Himachal Pradesh. During winter the village gets covered in snow making it a perfect spot for adventure activities like skiing, snow hiking, and snowboarding.
Sethan's intriguing beauty makes everyone crave for exploring this valley thoroughly and what better way to explore than through trekking and hiking in the valley? You can trek to Indrasana peak which is considered to be the throne of God Indra.
Things to do: Saithan valley is popular for igloo stays. Experience the warmth of icy igloos while seeping a hot cup of coffee, this is one of the unforgettable and unique experiences you can only enjoy in Sethan.
Another interesting thing to do in Sethan is Bouldering as the rocks are a mix of granite and gneiss. You can choose from the different grades of climbing depending on your suitability.
While visiting Sethan don't forget to visit the Pandu Ropa, it is believed that before participating in the Mahabharta, Pandavas resided and meditated at this place. This mythological site is a popular point of attraction among tourists.
Sethan valley offers a soothing and peaceful environment for stargazers too if you love to count stars or capture the movement of galaxies then this is the ideal place for you.
There are many more places that you can visit in India to witness snowfall which offers an incredible environment during the winter season like Manali, Dharamshala, Shimla, Dalhousie, Mcleodganj, Mussories, etc.
It's always important to go prepared in such areas as winters are quite chilly and the temperature usually goes down to minus. Hence, it is advised to take proper clothing items like woolen, heavy boots, jackets, etc. One should always stay hydrated and drink hot beverages to stay warm.
---
India has many hill stations that are no less than a paradise during the winter season. The snow, cold breezy winds, and pleasant surroundings all add up to the beauty of the place. Earlier people used to avoid winters and preferred to stay indoors curled up in blankets but, now more and more people are exploring and loving the experience of chilly weather. You can witness snowfall or enjoy a day building a snowman or even dive into a hot meal of noodles, the choice is yours. So, what are you waiting for? Plan out your next visit and experience the ethereal beauty of the above-mentioned places.
You might also like:-